We really love to learn and share our knowledge and expertise. We hold regular teacher training specific to The Pilates Barre Halifax Method of Contemporary Pilates Mat, Contemporary Pilates Reformer, Reformer for Fitness, Barre, Bounce, and Tower. See our all of our Teacher Training offerings below.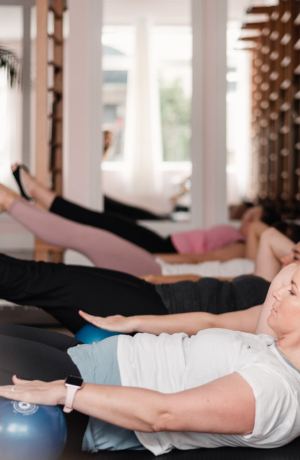 Pilates
Contemporary Pilates Mat Teacher Training
Embark on a transformative journey led by Erika Ferguson, an esteemed movement instructor with a profound 18-year legacy. In this eagerly anticipated offering, Erika invites you to delve into the art of Pilates mat instruction, where the contemporary Pilates style harmoniously converges with the timeless virtues of classical Pilates, becoming TPBHFX Method Pilates Mat Teacher Training.
Contemporary Pilates represents a progressive evolution of this revered discipline, artfully integrating cutting-edge insights into spinal rehabilitation, pelvic floor rejuvenation, and the steadfast stabilization and mobilization of the shoulder girdle. Within this program, you shall unravel the intricacies of the Basic to Intermediate Contemporary Pilates mat series, deepen your understanding of the intricate anatomy underlying Pilates practice, and discover the art of seamlessly incorporating props into your instruction. Throughout your journey, you will be nurtured with expert guidance and unwavering support as you accrue the requisite apprentice hours at The Pilates Barre Halifax.
To partake in this enriching experience, aspiring participants should possess a robust foundation in Pilates practice, a desire to elevate their mastery of Pilates mat, and share their passion for this discipline with others.
Prior to and during the training, students must attend Pilates mat classes, either in the studio or through virtual means, facilitated by The Pilates Barre Halifax. As a token of our commitment to your growth, participants in the program shall enjoy discounted class passes during a four month period. Additionally, students must audit 50% of their prescribed observation at The Pilates Barre Halifax. Expect the training to encompass homework assignments interspersed between weekends of instruction, along with the completion of your personal practice, practice teaching sessions, and observation hours. It is imperative to note that certain classes within our schedule remain excluded from the auditing process.
Both a comprehensive written examination and a practical evaluation, culminating in the well-earned certification of achievement for all dedicated students.
Payment Plan is available! Virtual Option Available!

Module 1 - TPBHFX Contemporary Pilates Mat | November 11-13, 2023
Learn the Principles of Pilates, Pre Pilates or warm up series, Beginner series and Anatomy. Required reading Pilates' Return to Life Through Contrology, (revised edition for the 21st century) by Joseph H Pilates and William John Miller.
Module 2 - Contemporary Pilates Mat | January 20-22, 2024
Prerequisite: Module 1 Pilates Mat with Erika. Beginner series completed, start the Intermediate series, Anatomy 2, hands on adjustments, injury specific Pilates, and props.

Weekend schedule is Friday 5-9, Saturday & Sunday 11-5.
Cost per module $600
Cost per text book $50
Module 3 & 4 TBA- 2024
Exam- scheduled by participant
Barre
Barre Teacher Training
Crafted by the expertise of Erika Ferguson, emerges an unparalleled embodiment of the art of barre instruction; a fusion of uniqueness, enjoyment, and unwavering functionality. This extraordinary curriculum seamlessly melds the grace of dance with the core strengthening precision of Pilates, infused with a dynamic cardiovascular dimension.
Join Erika as she leads you through and intensive 15 hour course, meticulously designed to empower you with the knowledge and proficiency to embark on your barre teaching journey. The hours of the course are Saturday 11-6 and Sunday 1030-5 at The Pilates Barre Halifax 5649 Hennessey St., Halifax.
Throughout the course you will learn a repertoire of simply yet challenging movements, carefully curated to create extraordinary barre classes that will captivate your students. You will learn the rhythmic tapestry of musicality (very important for barre class), the precise timing, impeccable barre form, and an array of essential nuances that will leave you with the confidence of a seasoned instructor.
The course's curriculum has been extended to include The Business of Barre which includes the entrepreneurial aspect of fitness teaching, providing you with invaluable insights into the art of self marketing, attracting the right clients, and approaching studios, and more. These skills will not only empower you to craft a side hustle but also equip you with the foundations to establish a thriving full time career in the world of fitness instruction.
There are no pre requisites to take this training. Let us help you begin your fitness teacher journey!
Investment $480.00 plus HST
Course held Saturday 11-6 & Sunday 1030-5